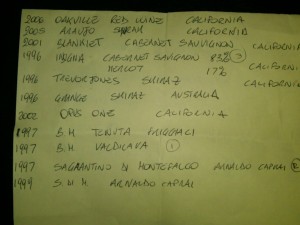 This is a report on the annual Minyan Shoot Out Wine Dinner that was held at Galileo 3 restaurant last week (BTW – the service and food at this restaurant was a ten – thank you Sandra for all of your hard work!). The "Minyan" is a very eclectic group of wine consumers who vary from moderately wine savvy all the way up to high-end wine shop owner. The "Shoot Out" means that everyone brings their best bottle of wine. We serve all wines blind and then vote on each one at the end of dinner. The owner of the wine with the most points at the end of the night earns a free dinner (everyone else pitches in).
As usual, three things occurred;
–          First, we had way too much wine!
–          Second, if you want 20 opinions, ask ten wine drinkers. This was a beautiful evening of entropy.
–          Third, I am always amazed at how many wine identities I (along with everyone else) get wrong when I taste these wines blind. I did, however, get most of the origins correct, but I will admit, I voted for the number one wine because I thought it was Bordeaux!
Here is a list of our STARTER Wines:
1998 Champagne Pannier, France
1999 Soter Beacon Hill Brut Rose, Oregon
2004 Kongsgaard Viognier Roussanne, California
1996 Domaine Caillot Meursault La Barre Dessus Clos Margarite, France
2005 Domaine Dublere Chassagne-Montrachet, France
1990 Karlsmuhle Kaseler Nies'chen Riesling Auslese, Germany
2001 Castello Vicchiomaggio Chianti Classico La Prima, Italy
Here is the list of wines served with Dinner (in order)
First Course: Parmigiano Reggiano cheese pudding topped with a layer of Burrata cheese and cream of porcini mushrooms
2006 Oakville Red Wine, Napa Valley – I have no idea who makes this wine.
2005 Araujo – Syrah Eisele Vineyard, Napa Valley
Second Course: Small "pinched" ravioli filled with three meats &served in veal jus, butter, sage
2001 Blankiet – Cabernet Sauvignon Paradise Hills Vineyard
1996 Joseph Phelps Insignia, Napa Valley – Third Place
2002 Opus One, Napa Valley
Third Course: Large homemade fettuccine with wild boar ragu
1996 Trevor Jones Shiraz, Australia
1996 Grange, Australia
Fourth Course: Grilled marinated beef rib eye, potato tart, roasted chanterelle mushrooms atop dry tomato, black olive sauce
1997 Tenuta Friggiali Brunello di Montalcino, Italy
1997 Valdicava Brunello Di Montalcino, Italy – FRIST PLACE
1997 Arnaldo Caprai Sagrantino di Montefalco, Italy – Second Place
1999 Arnaldo Caprai Sagrantino di Montefalco, Italy
Ruffino Chianti Classico Riserva Ducale 1978  – corked
Dessert:
2000 Tommaso Bussalo Recioto Della Valpolicella Classico
1990 Klaus Neckerauer Rheinpfalz Auslese (not sure if it was the Halde Scheurebe or Hahnen Riesling)
2001 Tokaji Aszu 3 Puttonyos (don't recall the producer)